Time for reading: 3 minutes
Author: Tim Day
For those who don't know, Thanksgiving Day is a national holiday in the United States. It was celebrated for the first time in 1621, between the Plymouth colonists, also known as pilgrims, and the Wampanoag tribe, in Plymouth, Massachusetts. The Natives and the Pilgrims shared an autumn harvest feast that is acknowledged today as one of the first Thanksgiving celebrations in the colonies.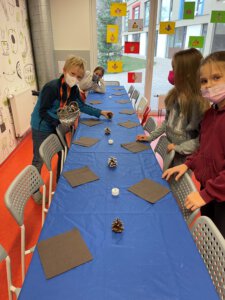 Today, Thanksgiving is about coming together and being grateful. It is a time to reflect on the memories and people who came into our lives, it's a time to cherish the moments we spend with one another, and it's a time to truly recognize all that we are thankful for.
What are you thankful for ?
At Magic Hill, English teachers come together and bring this tradition and celebration to the school. Students make crafts that reflect on what they are thankful for, spend time reflecting on the blessings in their lives, and they work together with each other and teachers to decorate and set the tables for Magic Hill's Thanksgiving lunch. One thing we all learned is being thankful means many different things for each of us. Here is what some of our students had to say:
Adélka (5th grade) – "I'm thankful for my family, friends, my school, and my learning. I enjoy celebrating Thanksgiving at school because we don't have it at home and it's fun and the food is good."

Klárka (5th grade) – "I am thankful for my family, my friends, my house, my pets, and that I have life! I enjoy Thanksgiving because we eat luscious pumpkin soup. I don't eat the turkey because I am a vegetarian. I only eat tomato.

Šimon (5th grade) – "1. I really enjoyed celebrating lunch (I really enjoyed the soup). 2. I really liked talking about what we are thankful for, I thought about it a lot, How lucky I am, about things we cannot control, or life is so unfair but that is life, and that is why we are thankful."

Ella (3rd grade) – "I am thankful for my friends, family, food and water, freedom, my school, and everything I have."

Amálka (2nd grade) – "I´m thankful for my teachers."

Štěpán (6th grade) – "I am thankful for my family, great friends, this terrific class and that I can go to this perfect school. Also, it is nice to learn about different traditions in other countries."

Bethany (English teacher) – "It was great to see all of the teachers and students working together to set up and decorate the tables for Thanksgiving. The students absolutely loved taking part in such a special holiday. I am grateful to have such great helpers and colleagues on this day of thanks!"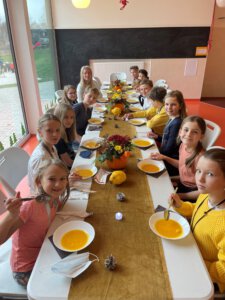 Being thankful does not have to only occur on Thanksgiving. We can always be grateful and show appreciation for the fortunes in our lives. What are you thankful for?
Interesting Fact: Each year the President of the United States pardons a turkey before Thanksgiving at a White House ceremony. This Turkey will never be eaten and will live out its last days on a farm with other lucky birds pardoned.