Time for reading: 5 minutes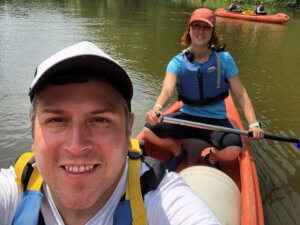 "Collaboration among teachers is a force that positively influences the whole school community." One of the things that I believe enables me to be a better teacher is my collaboration with colleagues. As an American coming into a different school system/structure, my experiences working with Czech co-teachers have shown me that there are many benefits for the students and me as a teacher.
When I began teaching in the Czech Republic, I was doing post-maturita studies and preparing students for PET-FCE-CAE Cambridge Exams. I did see that students at a lower level (A1-A2) found the collaboration between teachers very helpful because they could have certain things explained to them in Czech, and then afterwards, as a native English speaker, they would have a lesson where they could actively use the material covered by the Czech teacher.
FROM TEACHING FOR TEST RESULTS TO MEANINGFUL EDUCATION
There is an added depth with collaborating and combining knowledge and skills in different subjects. Teaching techniques I experienced as a student (i.e.: lectures, memorization, separated knowledge/skills, limited student interaction) aren't as effective in a world where students need to learn and develop 21st Century skills like communication, collaboration, and critical thinking simultaneously. More often, you can see that schools are not focused on teaching for test results and are headed towards meaningful education. Some of the newest teaching practices now consist of multi-subject instruction and project-based, student-focused lessons that grab students' interest and boost their learning responsibility. Students can make connections between different subjects, whether it be in Czech or English. This, in turn, develops their critical thinking skills, boosts confidence and self-esteem and improves additional skills.
A current example of collaboration between Czech and English subjects in our school is with the 9th grade. They have been studying the Cold War in history, and in Geography, they have been looking at various geopolitical conflicts. This will culminate in a Cold War Simulation that is put together by myself and the history teacher, where the students will have to use the knowledge they have learned in both subjects to prevent World War III from breaking out.
To accomplish activities like this requires time to plan and collaborate. Magic Hill facilitates this by giving teachers common times or blocks in our day where we are free to meet and discuss ideas with one another. In addition, having enough prep time that matches with your co-teacher allows for more collaboration because you have the time to gather all the materials and lesson aids for the respective subjects, which you need to make the lesson or project successful.
TEACHING COLLABORATION MEANS YOU DO COLLABORATE
      At Magic Hill, cooperating with other teachers at the school has been a learning experience that has made it very rewarding.  It has given me the ability to reflect on my teaching practices, gain confidence, think critically, and allow me to accomplish more than in a typical ESL language class. As a final thought, it has been said that with the large influence teachers play in the performance of their students and the focus of teacher collaboration as a primary example for the professional development of teachers, many schools and educational governing bodies around the world suggest and recommend that there be more collaborative efforts made among teachers. This is why collaboration is a must here at Magic Hill and through this we can lead the students by example on how to collaborate with others.