Forest class for little farmers
Quality pre-school education on an authentic farm, surrounded by forest and in harmony with nature.
OPENING IN SEPTEMBER 2023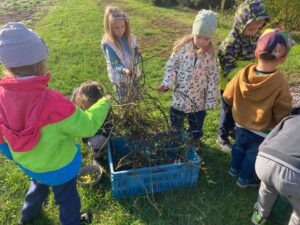 ALL-DAY STAY IN NATURE, TAKING CARE OF FARM ANIMALS AND GARDEN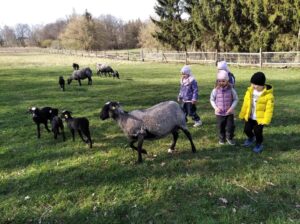 Children spend their time outdoors in the nature for the majority of the day, and in any weather. The variability of nature and weather teaches the pupils to overcome obstacles, supports their mental durability, strengthens the immune system and increases the ability of the children to understand their needs and react to them. Animal care, gardening, harvesting crops, cleaning, helping with class operations and various other small tasks are all part of the forest class programme.
Such full-day programme provides the children with an opportunity to engage all their senses and enhances their ability to enjoy the present. The nature inspires them to enjoy outdoor games, increases their creativity, fantasy and teaches them to use their social skills with their peers. Along with that the children also learn about the laws of nature, which instills responsibility and empathy towards living things.
EXERCISE AND ACTIVE APPROACH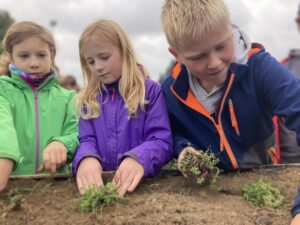 Physical condition as well as gross motor skills are improved among the children with enough of exercise and physical activities in every terrain, throughout the whole day. Rather than learning from books, our pupils enjoy hands-on experience of real nature surrounded by trees and plants, which naturally endorses their curiosity and exploration of the world. We aim to teach our pupils orientation in ever terrain, adapting to different conditions, understanding enviroment and its requirements, improve their motor skills and increase independence. Involving children in actitivites, that require them to spend time in the nature teaches them to respect work, as well as their peers, thus endorsing their sklil to cooperate.
MAGIC HILL EDUCATIONAL PROGRAMME – English language and unique pre-school preparation
However, the overall concept of pre-school education is identical to ordinary classes. Our forest class improves language skills, speaking and correct pronunciation of the children, broadens their vocabulary, trains their memory and prepares them for their future development of reading and writing skills, as well as sensory development. Regarding English language, we have native speakers among the teachers in our forest class, who help our pupils to develop English throughout the week. Children are familiar with them, and therefore it is easier for them to learn new language through every-day activities.