Why join our school?
For those of you who are interested in attending our school, we recommend to come visit us during our Open days which can be found in the School year programme section.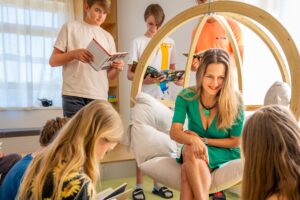 At Magic Hill we aim to offer an individual approach to our students according to their needs and potential. We want to guide our students through the curriculum, thus enabling them to successful continue on their future studies while being able perceive studying as a natural way of improving skills. We want to form confident personalities that can take responsibility for learning as well as empathetic personalities that can cooperate with others and are aware of their responsibilities in their surroundings, environment and society.
We have built our skills in cooperation with university experts on education – we draw inspiration from modern up-to-date trends and world-wide progress in education while working with real-life experts.
We are offering an education system that has been validated by more than 16 years of experience. Our students have excellent results in comparative exams, and we have a 100 % success rate in entrance examinations for high schools and gymnasiums. Our students are able to achieve their maximum potential thanks to our effort to support their inner motivation, confidence and ability to take responsibility for their actions. Furthermore, we aim to create a positive environment at our school, so that the students can feel like they are a part of the team.
We offer a subsequent secondary level of education for those students who do not wish to continue their studies in gymnasiums from the 5th grade.
Are you searching for a suitable school for you child, or are you considering changing schools and are asking some of the following questions:
Is the education offered by any given school actually good? Does it offer realistic goals? Can I verify it?
Is my child going to receive appropriate attention in the school?
Does the number of students in the class and the overall environment of the classroom enable my child to achieve their potential?
Is my child going to look forward to school? Are they going to fear school, failure, or the teachers?
Does the student collective and overall environment in the school prevent any sort of bullying?
Is it a priority for the school to not only educate students, but also help them to form their personalities and become modern open-minded people?
Is it a school that constantly improves and is up to date with modern trends in pedagogy?
Does the school focus on developing student skills that they can successfully apply in the future?
Does the school offer a quality secondary level of elementary school? Can my child continue their studies even after finishing the 5th grade?
…then do not hesitate to contact our school or our teachers.