Yearly Schedule of Topics
September – Our preschool, our classroom
Welcoming new students, getting familiar with the preschool and classroom routine, creating class rules, meeting new friends. Talking about summer, holidays, where I went during the holidays, and also the topic of me and my family – who I am, my hobbies, my family and others.
October – Autumn nature, forest
We will talk about the changes in nature during autumn, play with colors, create. We will learn how nature and all living things are preparing for winter and hibernation. We will take trips to the countryside and to the school farm, where the preparation for winter, will also begin.
November – Our body, human senses
We will describe the human body, see how it works, learn about all the human senses and train them. We are going to listen to different sounds, try what it's like to be in the dark, model and try working with different materials, to get to know things and objects by touch. We will try to explain (try out), what it's like to have a disability and how to treat people with disabilities.
December – Christmas – Christmas at Magic Hill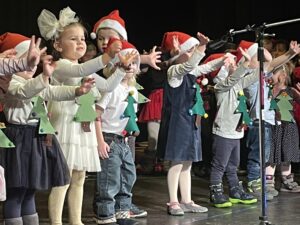 Winter and winter time, why is it cold in winter, why is it dark early, what does nature do during winter, what do animals do and how can we help them. Preparing for the Christmas Fair and Christmas gatherings. We will be talking about the traditions of Christmas, what Advent season is, we will bake cookies, make ornaments for the Christmas tree. Proceeds from the fundraiser fair will again be donated to the Cystic Fibrosis Club.
January – Seasons, calendar
Seasons, how they change, how they differ from one another, which one we like best. When does nature wake up, when it blooms, when we harvest the fruits and when we prepare for winter. Why do we have a calendar and how to follow it.
February – My family, my profession
We will be talking about individual family members and who our ancestors were, where and how they lived, what my mom and dad do. What other occupations do we know, what makes them different, we'll invite representatives of different occupations to the preschool and talk about what kind of jobs they do.
March – Month of books and fairy tales, theatre, art, culture
We'll talk about fairy tales, where good triumphs over evil, what are our favourite fairy tales and children's books and why do we like them. We'll find out how many different stories we know. We're going to learn why reading is important, why it's good to read. We will visit our local library and join our elementary school's March Reading Month project. We'll organise a big book exhibition in the preschool. We will also do a drama play together in the preschool, we will dramatize well-known fairy tales and stories and play different roles from the books.
April –  Spring, Earth Day, ecology and nature protection
In April, we begin to look forward to the beautiful spring weather and wait for the nature around us to awaken. We will talk about how we can protect the nature around us and preserve the environment. We will take many "spring" trips around the preschool, especially to the places where nature will show us its true spring magic. Together we will celebrate Earth Day.
May – Transportation, travelling, continents
We will talk about different methods of transportation, how are we used to travelling nowadays and how it used to be. What are the rules when travelling, how to travel safely and be safe on the roads. We can travel to distant countries and different continents, as we are going to search for them on the globe.
June – Taking care of our health, healthy food
We will focus on healthy eating habits. All month long we will learn about healthy foods, making a variety of healthy snacks, fruit and vegetable smoothies, juices, spreads. We will go to the store to pick out our own food, which we'll also buy ourselves, and then we'll cook something good with it on our own. We are going to be learning how to slice and butter a bready on our own and learn how to prepare only the food that we we actually eat so that we don't waste.
July + August – holiday season